• Creative Grids • Cut Loose Press • Jean Ann Wright
Geese in the Cabin is the first Cut Loose Press Plus pattern. And just what is a CLP Plus? It is an expanded, 6-page version from the pattern company you know and love. The pattern features a detailed cutting chart and step by step illustrations showing how to make a modified version of a log cabin block. All of the blocks in the quilt are the same. But by twisting and turning the blocks, you can achieve totally different looks! The pattern includes just a sampling of the possibilities. Since the Creative Grids Log Cabin Trim Tool Duo (CGRJAW10) is...
---
• Creative Grids • Curvy Log Cabin • Jean Ann Wright • pillows • Quilts • Starry Night • storm at sea • Tote bags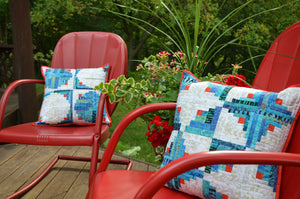 Jean Ann Wright has been a busy lady lately! Her latest ruler is available now from Creative Grids USA®, the Curvy Log Cabin 4" Trim Tool, and of course there are awesome Cut Loose Press™ patterns available to go with it. You can choose from quilts, a table set, pillows, or a tote, all using curvy log cabin blocks made with the new tool. For those who've used her larger Curvy Log Cabin Trim Tools, you already know how easy it is to use and what beautiful, fun designs can be made. If you haven't tried them before, why not...